I believe in the church. By saying that, I don't mean that I believe the church is the source of salvation. As believers, our salvation is from Jesus Christ and none other. What I mean  is that I believe the church, particularly in her localized expressions, is the means by which God is now making the good news of Jesus Christ and the kingdom of God known. That is, the local church is the vehicle or instrument through which the mission of God advances. This happens as the believers, led by the Holy Spirit, follow Jesus together as a local church.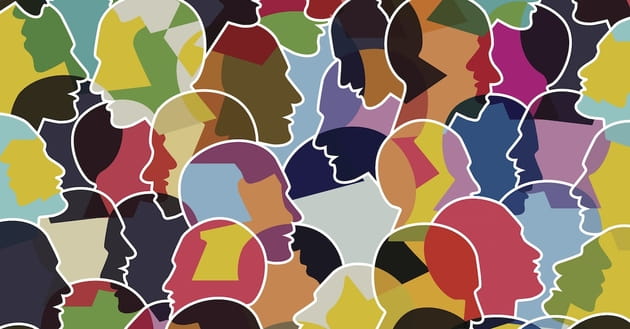 Most likely we understand that the church participates in the mission of God by the doing of good works and that is indeed so. However, the witness of the church is also seen in who the church is.
Ephesians 3:10 says, "God's purpose is now to show the rulers and powers in the heavens the many different varieties of his wisdom through the church." The word that gets translated as "many different varieties" in the Common English Bible is an adjective describing the wisdom of God. It speaks of diversity and multiple dimensions or many sides. In fact, Joseph Thayer defined the word in his lexicon as "marked with a great variety of colors" (A Greek-English Lexicon of the New Testament, 1889). So God's wisdom is shown in the fact that the local church is a diverse fellowship and read within the context of Ephesians, the church is a diverse fellowship of reconciled believers living as one unified local body of Christ.
Here is why this matters. Christian unity is not uniformity. As believers, our inclusion in Christ, which is our reconciliation to God and each other, does not eliminate our differences and make us all the same or imply homogeneity is the goal. Yes, we share the same common confession of faith in Jesus Christ but there is much diversity that still exists. The genius of the gospel is that it brings Jews and Gentiles, males and females, as well as slaves and masters all together in Christ (cf. Gal 3:28) who will no longer be defined by their differences, which foster division, but instead love and serve one another  as brothers and sisters belonging to God and each other—the family of God in Christ.
The beauty of the church is seen in her multi-colored expression of God's accomplishment in Christ. As Christians then, we don't become color blind as though our racial and ethnic identities have been erased. Our witness as a local church is that we are Blacks and Whites, Latinos and Middle Easterners, etc… who belong to each other and God in Christ.
Now let me ruffle the feathers and talk about the different political leanings found among Christian in America today. The reality is that Christians have different views when it comes to politics and voting. Some will lean left and others right, voting accordingly if they choose to vote. I'm not saying that every political view is right and morally/ethically justified and righteous. So there is a time for discussing the righteousness of our politics (and here I'll recommend Lee Camp's latest book Scandalous Witness: A Little Political Manifesto for Christians, 2020) but we must, it seems, acknowledge the political diversity that exists among Christians today.
What then does this political diversity have to do with Christian witness and the wisdom of God? Well, to begin, we live in a culture that is increasingly divided along political lines. In such a cultural climate, the genius of God's wisdom might just be shown in the fact that though we may vote differently, we will still love and serve one another as brothers and sisters belonging to God and each other because we have received the grace of God in Christ. Consequently, wherever this increasing political divide leads among America, we will not draw sides based on how we may have voted and become a part of the "us vs. them" cultural divide. Even more importantly, should the cultural divide lead to some sort of active civil war, as Christians we will commit to not taking up arms because our reconciliation in Christ transcends whatever political differences we might have. Instead, as diverse people brought together in Christ, who now share a common confession of Christ with a commitment to following Christ, we will continue accepting one another with love and so maintain the unity of the Spirit as we speak the truth of Christ in love.
This is how we participate in the mission of God. As such participants, God displays his wisdom through our existence and good works to a society that desperately needs to know this wisdom.